Twinsburg's Furnace Tune-Up Experts
At KW Lang Mechanical, we have the expertise to tackle all furnace maintenance jobs in Twinsburg, OH. As the oldest Carrier dealer in Ohio, we've been in business long enough to know all the ins and outs of providing top-notch customer service. Tell us about the heating woes that you're tired of encountering. Without hesitation, our technicians will come to your home and check your heater. We're on a mission to keep your furnace functioning at peak efficiency. The goal is to maximize your comfort. Our technicians will treat your home or business as if it were our own.
Why we stand out:
Carrier Factory Authorized Dealer
A+ rating with the Better Business Bureau
Ability to service all makes and models
Transparent, affordable prices
We've implemented effective heating solutions since 1927. To keep our reputation intact, we consistently provide customers with prompt assistance and affordable services.
Trusted Furnace Maintenance in Twinsburg
You'll have a fully functional heating system for a long time if you take the time to service it annually. If you neglect the unit, you may have no choice but to invest in a replacement. When furnaces are on the fritz, they can put homeowners in a financial mess because they cause utility bills to increase. They also can become a source of danger. The residents of Twinsburg don't need to press the panic button, however, since KW Lang Mechanical is ready and willing to help.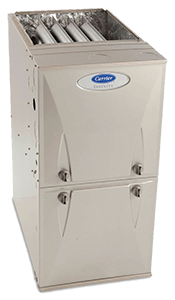 Our furnace maintenance includes:
Cleaning the inside of the system
Checking for leaks
Making adjustments to improve indoor air quality
Addressing small issues before they get bigger
Regardless of the season in Twinsburg, you can look forward to having a comfortable indoor environment because your furnace will run smoothly after we fine-tune it. Our experienced technicians always do a thorough job. They even treat homes as if they were the owners.
Heating Solutions for You
At KW Lang Mechanical, we don't inconvenience our customers in Twinsburg when we give them a helping hand. Acting quickly enables us to catch and fix problems right after they develop. Before we pack our tools and leave your home for any furnace tune-up, we'll turn on your furnace to make sure it's running reliably. That's why you can count on us. Our company is accredited by the Better Business Bureau, and our technicians are tested for drugs. You can also count on our crew members to wear shoe covers the entire time they're working.
Call us today so that we can schedule your next furnace tune-up in Twinsburg. We're also available 24/7 for emergency heating repairs, and we provide free quotes on heating replacements. Ask about our cooling maintenance services, too!